Will of Elizabeth Lindley of Skegby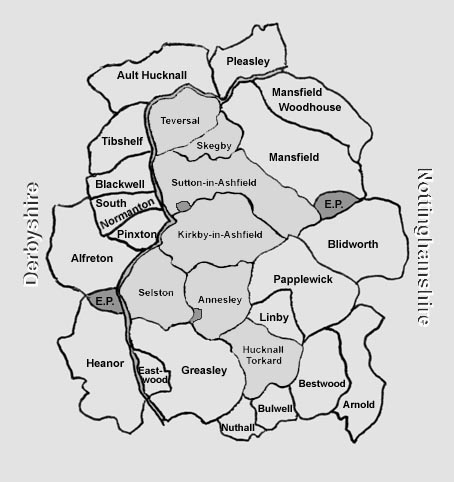 Parishes surrounding Skrgby
Aspects of Lindley History at Skegby
THE 18th CENTURY
Mrs. Elizabeth Lindley was buried at Skegby on 28th July, 1685, Thomas, her husband having died sometime previously. John. their son died in January, 1686, his wife. (formerly Ann Wild of London) having predeceased him on 23rd June, 1685, leaving five children. In 1691, the Lord of the Manor was Samuel Lindley. the eldest son of John. He married Ann, daughter of John Wilkinson of Hilcote Hall, Blackwell, but dying at the early age of 24, left a son. John, who married Elizabeth, daughter of William Burnell of Winkburn Hall on 3rd January, 1722. It was during his early years that the present Skegby Hall was built. Now modernised, and used as a Community School with Education, it is fortunately well preserved by the County Authority, and was opened as such by Mr. Geoffrey de Freitas. M.P. for Lincoln and Parliamentary Under Secretary for State on 12th May. 1949. It is believed that an older house stood on the site, part of which was incorporated into the new building. When the older portion was re-roofed by the Stanton Company owing to subsidence, it was found to be roofed with stone slabs fastened by deer horns.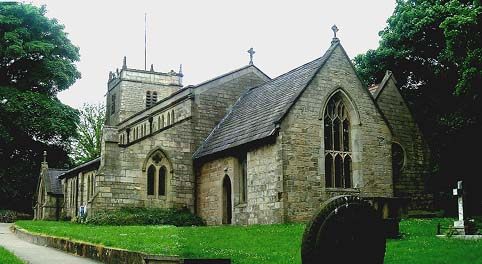 St Andrews Church Skegby
John Lindley died on 17th February, 1758, leaving no children, his wife following him on 5th July, 1771, he being the last of the direct line. He was succeeded by his half-brother, John Sleigh, who took the name of Lindley, for Samuel's widow had married Hugh Sleigh, member of an old Derbyshire family, and had two children, John and Ann, the sister also taking the name of Lindley.
His wife, Elizabeth - formerly Burnell of Winkburn - made her will on 19th May, 1767, and is so interesting on account of the nature of her personal bequests that I quote it in full.
"In the Name of God Amen. This is the Last Will and Testament of me Elizabeth Lindley of Skegby in the County of Nottingham Widow, made this Nineteen Day of May in the year of Our Lord One thousand seven hundred and sixty seven in manner and form following, that is to say I will that I be buried in the parish church of Skegby aforesaid as near as may be unto my said late husband and in the same decent manner as he was buried and that my debts and funeral expenses he paid by my Executors and Executrix out of my personal Estate and whereas by my Marriage Settlement hearing date on or about the twenty ninth day of June one thousand seven hundred and twenty two I am entitled to the sum of fifteen hundred pounds to he raised by the Trustees therein named their Executors, Administrators or Assigns within time year next after the death of the said John Lindley by sale or mortgage of certain messuages farms lands tenements and hereditaments thereby to them limited for the term of tine thousand years for my sole use and benefit and to be paid to me or my assigns now I do hereby give the said sum of fifteen hundred pounds to my nephew Darcy Burnell Esquire.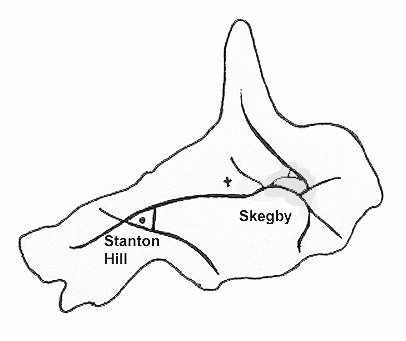 A sketch map of the parish of Skegby
Item. I give to my late husbands half-brother John Sleigh my waggon and cart and my husbandry gears and my chariot and a pair of horses. 1 give to my husbands half-sister Ann Sleigh twenty pounds for mourning. I give to my nephew John Burnell on his return from the East Indies my silver coffee pot and lamps and also my silver tea kettle and lamps, but in case of his not returning 1 give my said silver coffee pot and lamps to my said niece Elizabeth Burnell. 1 give to my said niece Elizabeth Burnell my large diamond ear rings and my little diamond ear rings and my gold watch and all my other jewels. Also I give her my silver cluster and the three footed creem pot. All the rest of my silver plate I give to the said John Sleigh. I give to the poor of the parish of Skegby the sum of one hundred pounds which shall he paid within three months after my decease.
I give to my own maidservants and to all my manservants who all happen to live with me at the time of my death the sum of ten pounds apiece and to my two under maidservants five pounds apiece. I give to my upper maidservant that shall live with me at my death each of them a sute of morning. I give all my household linen to the said John Sleigh. I give to the poor of Teversal and Dirty Hucknall one guinea to wit half a guinea each, and all the rest of goods chattels and personal estate whatsoever I give and bequeath to my said nephew Darcy Burnell and niece Elizabeth Burnell and do make and appoint them joynt Executors and Executrix of this my last will and testament hereby revoking and making void all former wills by me made. In Witness whereof I have hereto set my hand the first side of this my will written on one sheet of paper and to this second side my hand and seal the nineteenth Day of May in the year of Our Lord one thousand seven hundred and sixty seven.
Signed: Elizabeth Lindley"
John Sleigh Lindley died 25th July, 1782 aged 71, and his sister 18th April, 1790 at the age of 81. Their tombs lie at the east end of the churchyard. There being no heirs male. the manor devolved upon John Wilkinson of Hilcote, he also assuming the surname Lindley. He married in London, Miss Ann Ford in 1777. and dying in 1797 left the estate to his widow who afterwards was so well known as "Madam Lindley". Coming from London to live at Skegby Hall would mean the introduction of an entire change of outlook both to her and the inhabitants of the village. She must have been of an active turn of mind, and no doubt to counteract the quietness of a country village soon began to make her influence felt, more particularly after her husband's death. Towards the end of her life she became somewhat eccentric. and tales of her are still extant. It was said of her that she could dance between wine glasses on a table better than any other lady in England. Not an easy accomplishment.
The hall, situated on the banks of a stream, lent itself to her schemes and she caused dams to be made on both fronts of the hall, that on the south being ornamented by the building of a boathouse with a balcony extending over the water, a charming arbour being erected in the grounds and statues being placed by the side of the walks. Her drives in the country were taken in a gig, a vehicle to hold two very comfortably. She died, and was buried on 20th January, 1820, and by her will, dated 1817, founded a charity at one time assigned for use of the Church of England Sunday School.
THE DODSLEY FAMILY
After the death of Ann Lindley in 1820, the estate then passed to her husband's nephew, John Dodsley. This family appears in St. Peters parish, Nottingham in 1602, while Gervase Dodsley was parson of Laxton on the presentation of William Pierpoint on 3rd April, 1663, leaving there for Strelley in 1674.
Robert Dodsley married Alice Porter in 1643. and they had two sons. John, who lived at Pleasley Hill, and Robert who married a girl named Susannah. Their son Robert, baptised at St. Peter's Church, Nottingham, 3rd July, 1681, was a schoolmaster and father of the playwright and publisher born 1703, his brother John becoming ancestor of the Skegby branch.