The Marlbrough family were associated with Lindley by marriage. James Marlbrough( above) came from a long line of that name , whose earliest records date back to the late 1700's. The earliest records date back to a JOHN1 MALBRO in Guisbrough YORK'S in 1772. Descendents of John Marlbro.
James Marlbrough was born in South Stockton(picture.stockton) according to the 1881 Census for Conisbrough1881 Census for Conisbrough and was a neighbour of William Lindley. Both James and William Lindley worked at the Kilner glass works at Conisbrough
James Marlbrough married Kesiah Lindley in 1878 at Doncaster Register Office, see Descendents Of Richard Lindley of Castleford.
I have included a brief history of the North East and this can be found visiting
http://www.thenortheast.fsnet.co.uk/Stockton.htm
In the 1800's it was quite common for' trades to marry trades' as both families lived in houses that were owned by the Kilner Glass Company.
Pictures of Seaham and Neighbouring Areas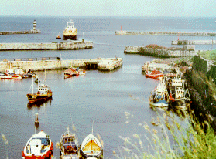 James's Brother John also lived in the same houses near to the glass works.
James Marlborough moved away between 1881 and 1891 as the local Census does not record them at Conisbrough. They moved to the Seaham harbour area, but his brother John remained at Conisbrough as the 1891 Census shows.