Will of John Lindley, City Garden Row, Saint Luke's (London) Middlesex 1789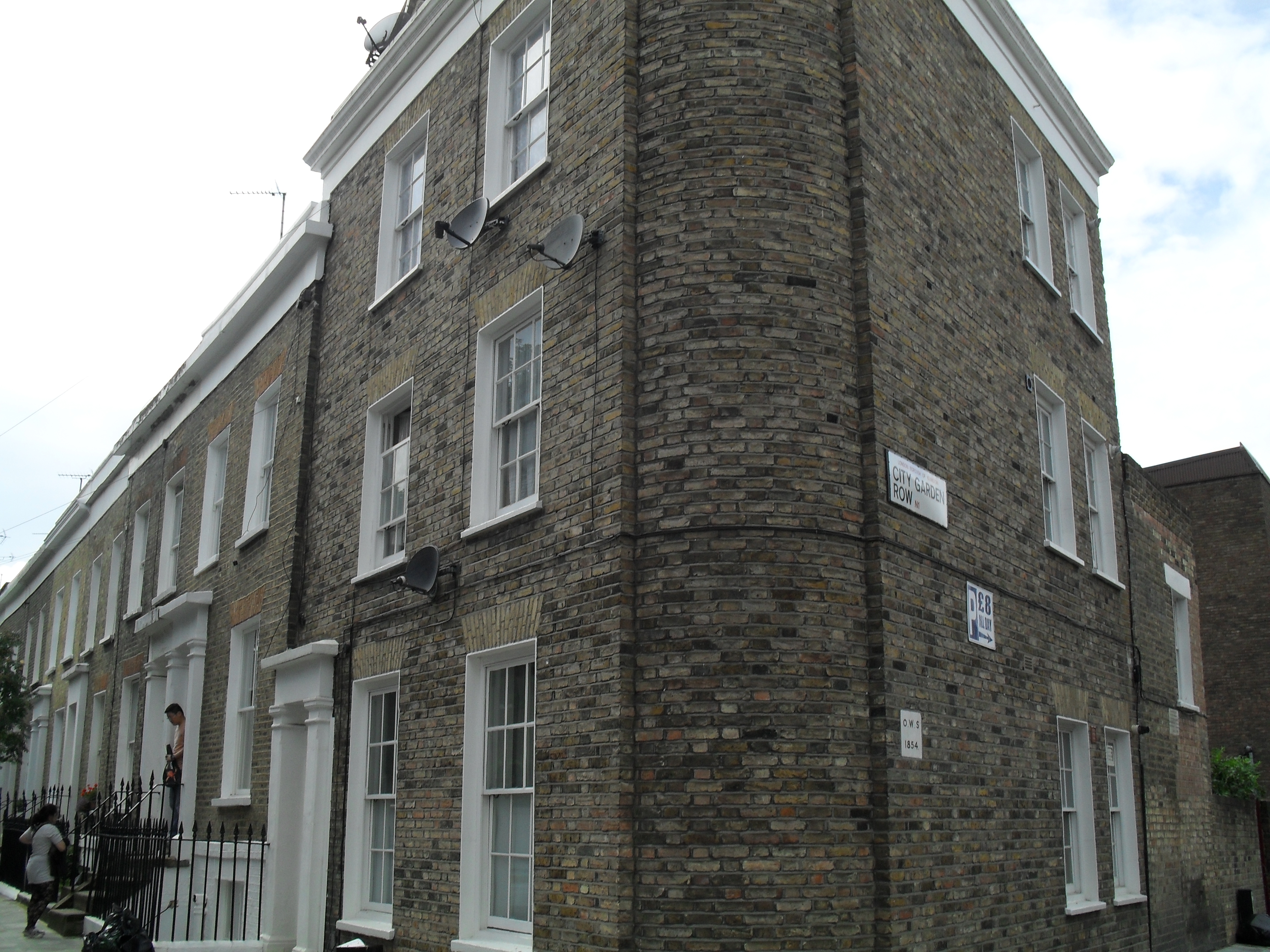 City Garden Row where the John Lindley, whose will of 1789 has Yorkshire links, lived. The houses in this photo are about 30 years later than John's time.
Will
I John Lindley of City Garden Row near the City Road in the parish called St Luke's and County of Middlesex paper stainer and being of sound and disposing mind and memory make this my last will and testament in manner and form following and that is to say first I will that all my just debts and funeral expenses be fully discharged and paid by my executors hereafter named also I give and bequeath to my son Robert Lindley his heirs executors administrators and assigns the tenement or messuage wherein I now reside situate in the City Garden Row foresaid and held upon release for the remainder of a term of sixty one years also give and bequeath unto my said son Robert Lindley his heirs executors administrators and assigns the sum of one hundred and twenty five poungs in the three per cent Consolidated Bank Annuities standing in my name in the proper books kept for that purpose in the Bank of England together with all the residue and remaining part of my Estate real and personal whatsoever and wheresoever but in case my said son should not live to attain to the age of twenty one years then I do hereby direct my Executors after the death of my second son to divide my effects equally all share and share alike amongst my sisters Margaret Lindley of Otley in the County of York Mary Lindley Martha Watson wife of George Watson and Hannah Lindley all of the city of York as follows that is one quarter share to each of them but if either of them should die without issue then that share or if more than one those shares to be divided amongst the survivors but if they have issue then that the parents share to that child or if children to be divided equally among them and I do hereby constitute and appoint my friends Abraham Hall of Aldermanbury and in the parish called St Mary Aldermanbury and City of London paper stainer and John Tenant of City Garden Row near City Road in the parish called St Lukes and County of Middlesex agent Executors to this my last Will and Testament as witness my hand and seal this tenth day of the Twelfth Month called December in the year one thousand seven hundred and eighty nine John Lindley witnesses John Goatham William Parker.
Probate
This Will was proved at London the Twenty Second day of March in the year of our one thousand seven hundred and ninety before the Worshipful John Nichol Doctor of Laws Surrogates of the Right Honorable Sir William Wynne Knight also Doctor of Laws Master Keeper or Commissary of the Prerogative Court of Canterbury lawfully constituted by the oaths of Abraham Hall and John Tennant the Executors named in the said Will to whom Administration was a granted of all and singular the Goods Chattels and Credits of the Deceased having been first sworn duly to administer.
Genealogical Notes
It is likely that John was born in Otley and baptised there 10th May 1742, son of Robert Lin(d)ley. He in turn was the son of a John Lin(d)ley and was baptised 13 Feb 1714.
John's sister Mary is probably Maria, baptised 2 Mar 1740 in Otley; it is not currently possible to find Hannah or Martha but if the family became Quakers (note the use of the phrase 'the twelfth month called December') then they could disappear from church records at least for a while. There is a Margaret linked to Otley in the appropriate period - a christening is problematic (the only Margaret christened is a daughter of Henry L of Pool, and she is too early) but there is a possible death and burial in Margaret Lindley of Otley, single woman (YAS Burials Fiche 10807L) 16 Mar 1800.
His sister Martha's marriage to a George Watson is explained by the following, and it also locates his sister Hannah:
25 Sep 1774 George Watson and Martha Lindley, both of Delpike (York) parish by Licence. Witnesses Richd Garland, Eliz Walker, Hannah Lindley, Susannah Lee - daughters of George Watson and Martha Lindley baptised 1780 (Elizabeth), 1781 (Mary), 1784 (Elizabeth, 5th dau. and 6th child), 1785 (Sarah, 6th dau. and 7th child of George Watson, a cooper), 1789 (George, 2nd son and 8th child of George Watson, a butter factor) (BMI)
[Note - Delpike Parish is near Holy Trinity Goodramgate mentioned in the will.]
Knowing that John L was a paper stainer gives a couple of further leads:
Marriage of Gideon Petilla of the Bedern, paper stainer, and Elizabeth Sayer of Delpike parish, spinster, by Banns, by J.D. - witnesses John Ingham and Robt Lindley 31 Mar 1810
John Ingham was a witness on 17 occasions between May 1808 and March 1810 so was possibly a parish clerk whereas Robert is more likely to have been a personal friend - it therefore looks as though the orphaned Robert may have returned to York to be near his sisters, and we note the occupational paper stainer link.
But then he may have returned to London, not with the best of outcomes:
THE COURT FOR RELIEF OF INSOLVENT DEBTORS.
The following PRISONERS, whose Estates and Effects have been vested in the Provisional Assignee by Order of the Court, having filed their Schedules, are ordered to be brought up before the Court, at the Court-House, in Portugal-Street, Lincoln's-Inn-Fields, on Friday the 10th day of July 1840, at Nine o'Clock in the Forenoon, to be dealt with according to the Statute.
Robert Lindley, formerly of Reeve's-place, Hoxton, having a Workshop at Tysen-place, Hoxton, and late of No. 55, Essex-street, Kingsland-road, all in Middlesex, Paper-Hanging-Manufacturer and Stainer.
London Gazette Issue 19867 published 19 June 1840. Page 26 of 32
The 1841 census has another much younger Robert in Essex Street but also a paper stainer (in his 30s) and with a young family.
Perhaps he or his son Robert had a son called George back in London, as the 1881 census has:
George Lindley - Age:43 Born:London MDX ENG; Disabil: ; Occup: Paper Stainer; RG11/0341 f.123 p.27 FHL Film: 1341074.