SEARCHING FOR MARY ANN LINDLEY
INTRODUCTION
Mary Ann Lindley nee Edwards was my Great Grandmother
For over 25 years I have been searching for Mary Ann Lindley nee Edwards, she was born at Wednesbury in Staffordshire in 1824 to parents of James Edwards and Ann Robinson.
Her father was a canal navvy and travelled the country, he came to Leeds in the 1830's were he had more children, Henry, John & George William Edwards
By the time of the 1851 census James Edwards must have died as Ann his wife was shown as a widow.
Mary Ann was married to William Lindley in 1850 and lived at Jack Lane Hunslet, with a son John and a William who it said was by a former wife. I found that William Lindley had been married previously to a Jane Lister in 1846 and that she had died in1849 of cholera. William was her son and although on the census it said 'William Lindley' by a former wife, in fact he was William Lister, and on the 1861 census was shown as William Lister.
William & Mary Ann had more children at Hunslet, namely James 1852, and then moved to Thornhill Lees Dewsbury as William was now working in the Glass Works of Kilner Brothers. They had more children, Ann Elizabeth 1854, Mary 1857, Kesia 1861, and William Henry 1865. The family moved again in 1867 to Conisbrough to the then new Kilner glassworks and had more children, Mary 1867 (the first Mary had died) Emma 1870, Sarah 1872, Betsey 1874, Lillie 1873, Edith no birth date but she die in 1876.
On the 1871 census the family was still at Conisbrough, but on the 1881 census Mary Ann was a widow, William had died in 1880 age 67, and is buried in the church yard at Conisbrough in an unmarked grave. Some of the children had died by this time.
On the 1881 census, the family were called Findley on the IGI there must have been a miss transcription of the name. The family were now consisted of Mary Ann, William Henry, Lilly and Mary. But further research showed the family as 'Lindley' Mary Ann had taken in Lodgers and her Nephew George William Edwards were living with the family.
<![if !vml]>

<![endif]>
Extract of the 1881 census
By the 1891 census there was no sign of Mary Ann or Lilly or Mary, but William Henry (her son) had married and lived at Conisbrough and worked at the Kilner glassworks.
Mary her daughter had lived at Bradford, but tragedy had struck; she had hanged herself and is buried in the church yard at Conisbrough in an unmarked grave as many of the children were.
The 1901 and 1911 census was checked for both Mary Ann and Lilly, there were no sign of them or of Mary Ann having married again and no death either for her or Lilly.
So other possibilities had I pursued:
Not available on census night.
Moved to another County.
Emigrated
They could not be found in another County, the emigration theory became a possibility
Emigration
This looked a long shot, I had a contact in America whom I had done some research for, and so I contacted her and asked her to look on some census documents for 1890 and 1900 in any state.
Information from America
First the 1900 census, found Mary Ann Lindley aged 76 living with her now married daughter Lillie Habner, living in Michigan and a grandchild Lorene aged 5.
The census had many other details, such as were born i.e. England, date of birth, how many times married. It also gave the year of arrival in America as 1890.
From this my contact had checked the passenger lists and found that Mary Ann was down as Mrs W. Lindley and Lillie was her daughter. Lillie's (note the difference in spelling for Lilly) living in Grand Rapids, Kent Michigan. As to why they should emigrate at Mary Ann's time of life (aged 67) I am note sure, maybe a relative was there.
Passenger List from England
| | |
| --- | --- |
| Arrival Date: | 10 Jul 1890 |
| Birth Year: | abt 1873 |
| Age: | 17 |
| Gender: | Female |
| Ethnicity/Race­/Nationality: | English |
| Place of Origin: | England |
| Port of Departure: | Liverpool, England and Queenstown, Ireland |
| Destination: | United States of America |
| Port of Arrival: | New York |
| Port Arrival State: | New York |
| Port Arrival Country: | United States |
| Ship Name: | City of New York |
| Arrival Date: | 10 Jul 1890 |
| Birth Year: | Abt 1873 |
Image of the ship they sailed in from England in 1990
<![if !vml]>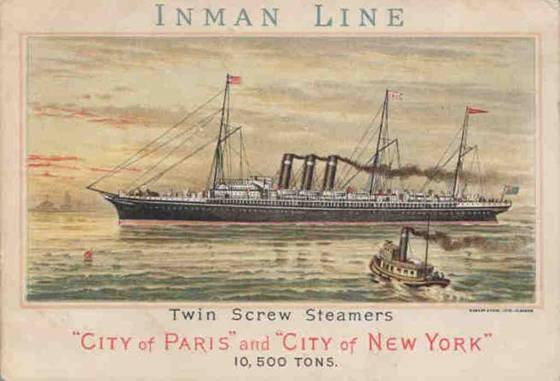 <![endif]>
A section of the actual passenger list
<![if !vml]>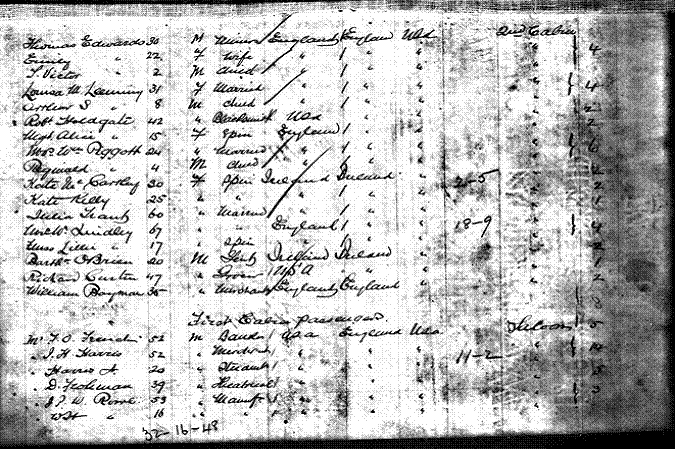 <![endif]>
Note: Mary Ann Lindley was shown as Mrs W. Lindley
New York Passenger Lists, Ellis Island, Lillie Habner nee Lindley after a visit to England in 1903
| | |
| --- | --- |
| Given Name: | Mrs. G.A. |
| Surname: | Habner |
| Last Place of Residence: | Chicago |
| Date of Arrival: | 09 Sep 1903 |
| Age at Arrival: | 29y |
| Ethnicity: | England |
| Port of Departure: | Liverpool |
| Port of Arrival: | New York |
| Gender: | Female |
| Marital Status: | M |
| US Citizen: | |
| Ship of Travel: | Majestic (1890) |

<![if !vml]><![endif]>
Further census were examined, i.e. 1910, 1920 and 1930, Mary Ann must have died between 1900 and 1910 as she did not appear on these census.
Further evidence showed that Lillie Habner nee Lindley and her daughter Lorene had visited England in 1903 aboard the SS Majestic (see details above) and I do not think that Lillie would have left her mother, then aged 76.
More research is required to establish the death and burial details of Mary Ann Lindley.
This is an amazing story and I am very pleased that at long last I have found Mary Ann.
John Lindley 1/1/11