Introduction.
I am researching James Lindley who was my great uncle and who spent part of his life in Barnsley and was prominent in a strike at the 'Hope Glassworks 1886'.
The Lindley's came from Castleford, and I have traced them back to the early 1600's, they were there until the early 1800's. William Lindley who was the father of James Lindley moved to Leeds from Alerton Bywater after his father John Lindley died at an early age and his mother remarried.
William Lindley married a Jane Lister in 1846 at Leeds St Peter. Jane died four years later of Cholera. William remarried in 1851 to a Mary Ann Edwards and had several Children, one of whom was James Lindley.
James Lindley
James Lindley was born at Jack Lane in Hunslet near Leeds in 1852; he was the son of William Lindley and Mary Ann Lindley nee Edwards. At the time of the 1851 census the family (minus James) were living in Jack Lane Hunslet.
Hunslet 1854
"Hunslet has over 30 mills and factories, chiefly employed in woollen manufacture. It has several potteries and glassworks. Hunslet Lane and Road are now almost a continued street of houses and other buildings, nearly 2 miles in length, with the old, but now greatly enlarged, village of Hunslet, lying on the west side about 1.5 miles from Briggate. Nearby is a large Moor (a boggy, peaty area) and Carr (wetland with small shrub or thin tree cover) crossed by the railway from Middleton and Rothwell Haigh collieries and having extending round their margins many rows of houses and cottages. The crown and flint glass works, and the chemical works of Messrs Bower and several potteries of coarse earthenware.
For more abut Hunslet go to www.hunslet.org
<![if !vml]>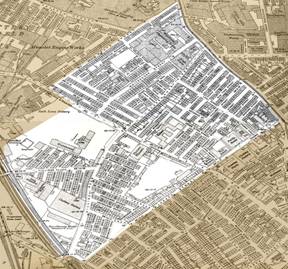 <![endif]>
Hunslet in 1932
Crown Glass Works Hunslet
Jack Lane/Joseph Street. Between 1814 and 1861 the Bower family of Hunslet had at least four glass houses in operation, including the "Hunslet Crown Glass Manufactory". They were some of the earliest in the Leeds area, producing flint glass, bottles, retorts and fine window glass. In addition to glass houses they had warehouses in Leeds, London, Manchester and Liverpool. After 1861 the site was occupied by Brookes, then The Yorkshire Decorative Glass Co. By 1964, several auto repair shops and other businesses were using the site which was variously known as Wooler's Buildings, Wood's Buildings, or "The Yard".
The family in 1851 consisted of William and Mary Ann and one son John who was born in 1850. William Lindley was an Ag Lab on the 1851 census.
On the 1861 census the family were living in Thornhill Lees Dewsbury and the family now consisted of John, James, Mary and Elizabeth Ann. William was now working at the Kilner Glassworks as were John & James. Both boys were at this time 10 and 8 respectively. In those days, there was no age limit at which children started work.
More children were born at Thornhill Lees'
By the 1871 census the family had moved to Conisbrough to work at the then new Kilner Glass Works.
By 1881 James had moved to Barnsley to work at the Hope Glass Works, he married in 1881 to an Elizabeth Abigail Swan at Barnsley Register Office, whose family were from York, but Elizabeth father was from Durham.
James' father died in 1880 and James was mentioned as the informer on his father's death certificate as being at Ardsley. James had several children and must have moved about as his children were born at various places such as Monk Breton, Swinton and Ardsley. The children were – ALEXANDER( was alive on the 1911 census aged 25 and single) , GEORGE WILLIAM, JOHN STANLEY, and CLARA AND LAURA.
James was involved in a strike at the Hope glass works in 1886; this was reported in the Barnsley Chronicle at the time. James was mentioned several times along with his brother John
<![if !vml]>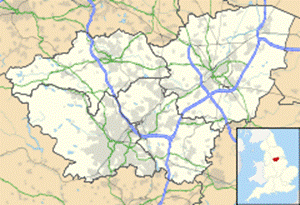 <![endif]> <![if !vml]>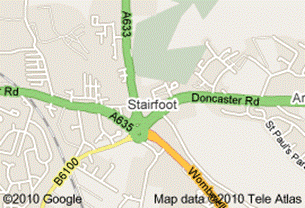 <![endif]>
Map of Barnsley & Stairfoot
A quote from the Barnsley Chronicle of 7th December 1993:
The article entitled: 'Tragic genius of the Barnsley glass industry'
See also 'Aspects of Barnsley' By Brian Elliot
In its first paragraph it says and I quote:
On September 11th 1886 the Hope Glassworks at Stairfoot which employed more than a thousand men and boys went on strike in a dispute over working hours.
On Monday September 20th Dan Rylands the owner, sued, James Lindley one of his glassworkers for the sum of 8s. 2d (41p) in Barnsley Magistrates Court. The sum was reckoned as Lindley's share of the loses suffered during the strike.
James was quoted as living at Dearne Terrace at the time.
<![if !vml]>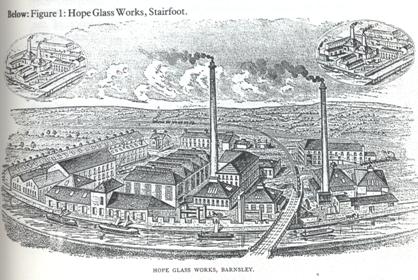 <![endif]>
The Hope Glassworks Stairfoot Barnsley
A few years later and certainly by 1890 James was living in 'New Station Street' Swinton and working at the local glassworks:
Swinton Glass Works Rotherham, England (c 1852 - )
Built by Messrs Ryland's, Tillotson & Wilkinson c 1852. Became known as the South Yorkshire Glass Company, then Dale Brown (1933), then Canning Town Glass (1962). Became part of the United Glass Company, under which name it was later known.
James died on the 9th of April 1909 aged 57; he was residing at the time at 34 Eldon Street North Barnsley. His son Alexander was the informant, who was living at the same address aged 24.
James was buried in the Barnsley Cemetary on the 13th of April 1909 grave number 792 section M, also in the same grave are John Stanley Lindley his son who was buried on the 16th of December 1892 aged 3 years, Laura Lindley his daughter buried on the 23rd of May 1896, there were no more burial in that grave. So that leaves the question as to were Elizabeth his wife was buried or did she remarry as she was about 10 years younger than James.
Conclusion
I would be grateful if anyone has any information about James or any of his descendents that may help me in my research.
My acknowledgement. To Brian Elliot for giving me permission to include the image of the Hope Glassworks in the article
You can contact me at jlindley41@sky.com
See my web site www.lindleyancestors.co.uk
John Lindley 1/1/11