Evelyn Hutchinson
nee Lindley
Evelyn Lindley was born in 1891 and was the daughter of William Henry Lindley and Ellen Ackroyd & Aunty to the author. She was born at 16 Westfield Terrace now known as Northcliffe Road Conisbrough. She was baptised at Conisbrough St Peters Church.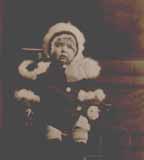 Evelyn married Walter Hutchinson, who was a shop manager at Hunters Shop in Church St Conisbrough. Walter was in the Army in the first World War and was mentioned in dispatches.
They later went to live at Maltby which is nearby village some 5 miles away, were they managed another Grocers shop.
Evelyn Hutchinson nee Lindley in the early 1890's
They remained there until they retired to Cleethorpes were they lived out there lives. They had one daughter called Constance known as Connie.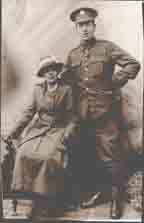 She was a Cousin oft he author Connie married Harold Hunsley who was Photographer in the second World war and after being demobbed he set up his own Photography business in Maltby

In there 70's about 1960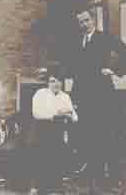 Evelyn & Walter about 1918
Evelyn & Walter Hutchinson pre World War 1