Constantine's In Australia (1)
TRANSPORTED FOR LIFE
Many years ago I decided to research my mother's family. My mother's maiden name was CONSTANTINE. This was an unusual name in the Denaby & Conisbrough area.
My mother's name was Johannah; my grandfather was a George Constantine who from the 1881 census was born at Denaby in 1880 with a father called John. It appeared from the census that John came from Ashton under Lyne in Lancashire, aged 34. He had moved to Denaby in the 1870's to work at the Denaby Main Colliery. He married an Elizabeth Ward from Mexbrough.
The 1851 census for Ashton under Lyne showed that John was living with his grandparents at Brook Street, then aged 4, his grandfather's name was also a George Constantine aged 45, a cotton spinner, born Stockport and his wife Sarah aged 47 and some of their siblings.
There was no sign of John's father, at this point I decided to send for the birth certificate of John, this told me his fathers name was Joseph, a spinner, the same occupation as his father.
More research revealed that Joseph had married in 1845 to an Elizabeth or Eliza Needham.
George, Joseph's father was married in 1825 to a Sarah Aldred. I checked the IGI for George's birth and this is when I came to an abrupt halt, no mention of George. I then decided to leave any further research until later.
In early September 2003 'out of the blue', I received an e-mail from a Christopher Constantine in Australia, which said and I quote:
"My name is Christopher John Constantine a descendent of Joseph Constantine of Ashton under Lyne. Joseph was the son of George Constantine (born Stockport c 1806 and Sarah Aldred (born Tyldesley c 1804) married 25th December 1825 at Leigh in Lancashire. I believe George's siblings were Jane (c 1833), Ann (c 1838) and Alice (c 1847), later Joseph was found to be born in 1828.
In 1848 Joseph Constantine & Joseph Radcliff were leading a "Chartist Rally" in Ashton under Lyne at which a constable Bright was shot and killed. As a leader my Joseph was held to be responsible, and was sent to Liverpool, appeared at the Assize Court and was sentenced to be transported to Australia. From his convict record he was 21 years of age, married with 2 children.
He arrived in Hobart Town, Tasmania on the 29th of November 1849 aboard the last ship to bring convicts to Sydney. It was called the 'Adelaide' but known as the 'Chartist' ship in Tasmania. There was a Ticket of leave waiting for him, so he was virtually free but unable to leave the colony. After three & half years he applied to bring his family out as emigrants – this was the usual thing. He was refused permission on the 25th of October 1852 and three days later was caught trying to escape aboard the 'Flying Squirrel' a schooner of 87tons. He was sentenced to hard labour in the stone quarries of the infamous Port Arthur.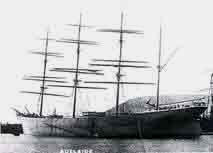 The Adelaide Ship that transported convicts to Australia
Eventually the English Parliament began to pass all he had been fighting for and he was granted a full and free pardon, however they did not repatriate him.
Some 16 years later we find him working as a stone mason in Winchelsea, Victoria where he married
Henrietta Jennings and brought up a second family."
Elizabeth/Eliza his first wife we shall never know what became of her, but John, Joseph's son was my great grandfather who made his way to Yorkshire from Ashton under Lyne to work in the coal mines.
Since receiving all this "new" information, this has now "fired" me up to try and find George [Joseph's father] and his ancestors.

Click on image to enlarge. Then hover in bottom right corner - click again to read.
My thanks to Christopher Constantine (Australia) who has provided the author with the information about Joseph and his 'Transportation'