CHARLOTTE KILNER
Maritime Museum Hull March 2008
Three Ketches a Schooner &Four Generations
This Article has been kindly sent to me by
David Raddings for whom I am grateful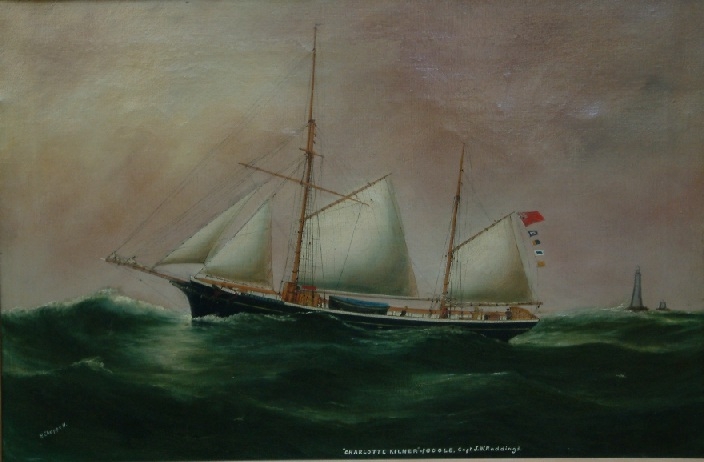 CHARLOTTE KILNER
Dear Mr Caldwell
At an early age I knew I had a maritime heritage, a Chappell painting of the ketch Charlotte Kilner surging through rough green seas and white surf off the Eddystone Lighthouse always hung in our lounge as long as I can remember. The scene is set by a figure stood at the helm, an Ensign flying high and signal flags WKSQ beneath with sails shortened in, ready to make the most of what seems to be of an impending squall, the man is pushing the ship hard in an effort to make a tide at a nearby port or haven. That impression is obviously designed to give any Captain or Owner that extra sense of pride at a time in history when photography could not produce anything of the like. The name on this particular painting, Capt. John William Raddings, has a very special significance.
Surely with those thoughts of pride on her mind, many years later my Grandmother would sit with her shawl around her shoulders knitting grey woollen gloves for her grandchildren in her cosy, well worn, old arm chair with it's rustic coloured fabric and frayed arm rests that seemed to reflect her many years. Likewise those nine pairs of individually tailored gloves are fondly remembered by her Gchildren, which when finished would be lovingly wrapped in white tissue paper and given for Christmas. During a pre-gift fitting however, she would nostalgically tell us of the days when she used to take her children and join her husband (JWR) to sail to the Channel Islands or other places around the coast. The affection she held for those memories were never far from her mind.
Her son, John, would have been six years old in the summer of 1916 and I suppose he was already being groomed for his future on say a voyage from Hull to Alderney.
Stood between his father and a huge mahogany wheel, his father's salted, strong, calloused hands supporting his, as they held on steadying their ship to keep her on course, with a seasoned eye of the Captain looking aloft, making sure the wind was kept taut in the sails for best results.
Nearly 40yrs later I would have a similar experience when I had the privilege to be with John, my father, on occasions as he took ships in and out of the docks in Hull. Returning home I would imitate what I had seen using the vice handle for a ships wheel on his grimy, well used work bench, in his equally dusty and dingy garage workshop. Looking out through a dirt encrusted window surrounded by tools and inevitable cobwebs I could dream of imaginary horizons and seascapes, which in reality was his handmade wooden greenhouse at the bottom of the garden, a fine product of his WW2 ingenuity during times of wood rationing & shortages.
Learning the feel for rope, knots and splices, the Turks head, rope mats and eventually bell lanyards by the time I became a teenager, was also part of that grooming, like I know it was his. His skills with rope, canvas, palm and needle were obvious and inevitable if a person embraces the sea life of that era with so much passion. Ships, his life's work continued until he was well over seventy.
Until one day when it was his time to say farewell and those with the experience of emptying the family home know full well how hard it is. There, in what was my Grandmother's solid oak writing bureau, were the usual old bills and letters stuffed away for safekeeping. Even the drawers beneath were full to the brim. Although, instead of what might be expected, a tablecloth or two, dining utensils perhaps, there were his hobby accessories: house hold tools, a jumble of parts and pieces of watches and clocks, research books and all the paraphernalia required for their repair. However, it was not just one drawer that contained such equipment, all the drawers were similarly filled. Finally in the bottom drawer, which was practically impossible to open due to its weight, filled to overflowing were marlin spikes, wooden fids, binding tools, rope, palm & needle, bees wax, thread and canvas, even his prized and well sort after bell lanyards, in fact everything but an anchor, the logical and most plausible reason why the weighted drawer would not open in the first place. Indeed he was a Mariner to the end, a significant family trait.
Continuing the difficult search through my father's private life, in another cupboard I came across a rather innocuous grubby old cardboard box marked Stork Margarine. In truth it was hardly worth a look, but there had to be a reason for it so inquisitively I did. It revealed a rather tattered brown old school exercise book where my father had written in his practically indecipherable writing the description and workings of a Billy Boy, a ketch named "John" owned or chartered by The Kilners.
The Kilner's were a glass bottle making company in the 1800s' that needed supplies of silver sand. This was brought to the factory based in Conisbrough, near Doncaster Yorkshire from Holland with the aid of the Billy Boy that was then Captained by a Benjamin Lake Raddings, that is to say, my father's grandfather and my GGfather, a fourth generation of sea farers.
However this was not all, a musty smell pervaded from the rest of the contents that included a tattered carbon copying book with over 40 hand-written letters, the originals of course long since gone missing. There were also a lot of fragile papers, brown-stained with age, some of which were in a particularly flimsy condition. Unfolding a large well creased parchment document with the description and details of the vessel Charlotte Kilner: Official Number 67837, No. 3 in 1882 Goole, I realised this was the Official Registration document for the ketch that we had the Chappell painting. Furthermore there were two mortgage documents for the same vessel and another for a ketch named "Princess".
Even though I vaguely knew of the family history with sailing ships from our Gmother, my father had also informed me of certain documents he held, but I could hardly believe what I had discovered. In fact his description of the Billy Boy had been the beginnings of an attempt by him to put what he knew on paper, to record the contents of the box. Of course this was before the days of computers with their word processors and memories. I then realised the precious contents of family history had come to me as an inheritance, a story that had to be recorded and stored.
The only other fact known about the "John" at this moment however is that my GGfather had a very good painting of her that was destroyed when his house in Alexandra Rd was bombed during a WW2 air raid. (Intended target probably the railway-bridge or line across Beverley Rd leading to the docks)
In my search to find more I found another painting by John Ward held in the local Ferrens Art Gallery, "Hull from the Humber", dated 1837, depicting a very industriously looking waterfront of the day with a small sailing ketch prominently in the foreground similar to a Billy Boy off the Victoria Pier that may well be like that of the "John".
In 1882 the Ketch "John" was replaced when the Kilner family decided to have a vessel built by a Mr Outwin of Goole, the ship being named Charlotte Kilner, a wooden built vessel of 79.1ton L75ft x Bm19ft. For Kilner history see Mr Caleb Kilner's Obituary
In those days shares in a vessel were allocated to interested parties or investors in the ratio of 64 to 1, and with the Charlotte Kilner it read as follows:
George Kilner 40
Caleb Kilner 16
B L Raddings 8
Total 64shares
Caleb Kilner was the Managing Director of the Company at this time and in 1900, after 18 years of ownership, a decision to sell her off was taken. My GGfather BLR had something in common with Caleb, both were very strict Wesleyan Methodists and so he (BLR) was probably highly regarded as being "sober & true". Caleb known to be a very honourable person may have influenced the Companies decision when agreeing to sell it to him.
His son (John W) had served as deck hand and able seaman (with his father BLR) since the age of 14 and by this time was aged 21 and had become the mate.
The years between 1900 & 1907 were very important for John W with his hands not just on the ropes, he was now holding the reins alongside his mentor, father Benjamin.
Sometime during this period he had met Elizabeth, falling in love with each other, by 2nd July 1906 they married in the Prime Methodist Chapel on Holderness Rd. Elizabeth Waller, daughter of a fish merchant had become Mrs Elizabeth Raddings and between 1906 and 1910 had their three children, Ruth, Bessie & John (my father 1910~2000).
Of course during this period it was business as usual as far as sailing and making a living was concerned, indeed a hard business, so much so by the age of 53, in 1907 BLR was ready to retire from the sea, offering the ship and business to son John William for the price of £450. Agreeing to this and, after depositing his life savings of £100, John found he had to mortgage the outstanding balance to the sum of £366.
My father, John (1910~2000), made this account of JW's & E R's enterprise in the brown exercise book:
From then 1907 my Father traded to his own account, continually sailing between many coastal ports: Stonehaven [seed potatoes which he took down south], Kikoldy, Grangemouth, Aberdeen, Leith, Crail(?), London, Yarmouth, and a big trade to the Channel Islands [potatoes], mainly Alderney, Gurnsey [with coal], also the south coastal ports of Dartmouth, Parr, Charlestown [China Clay] as well as the Bristol Channel ports and the Irish Ports of Waterford and Wexford, Drogheda, Cork, Arklow and Dundalk, so many ports up and down the coasts of England, Wales and Ireland, although very little to the Clyde area.
Knowing now to be heavily in debt, with a family to support, their last child of three, my father (another John) was born in 1910, Elizabeth & John William (known to many as Jack) set too to work hard and pay off the debt. Considering his life savings at 26/7yrs old had been just £100, by 1909, when the final payment was made, must be a sign of just how hard they worked together.
When the Hull Fishing Industry developed to the extent of surplus, cod from the market was bought and salted by a firm called Waltons on the west end of the dock (St Andrews Dock, Hull), known as the "Cod Farm". The "Charlotte Kilner" was the first ship loaded with a cargo of Salt Wet Cod and was chartered by Charles H Lowery to take it from Hull to Exeter. How many subsequent cargoes I do not know. The many and varied cargoes she did carry included: Scottish seed potatoes, grain, stone, cement, coal, china clay, scrap iron, and of course silver sand.
Of course trading continued through The Great War, WW1, as indicated, even with the whole family aboard when it was favourable. Then in December 1916 loading stone from Alderney to Grimsby, with the family at home eagerly awaiting their father's return for Christmas, he wrote a card dated 13/12/1916:
I expect to be sailing about 3 o'clock this afternoon as the wind has just come SW so hope we shall not be long before we are home
Well no more this time best love to all from your loving husband Jack xxxxxxxxx
I am sure Elizabeth and "Jack" had many great friends and business contacts throughout their travels, none more so than the people of Alderney, many who they knew through their Methodist Church connections. Outside the business of sailing the church paid a major part in their lives.
The postcard of the 13/12/1916 from Alderney has a postscript squeezed in at the bottom in a different coloured ink as though he had gone ashore to post the card and to say his fond farewells to their friends and whilst there noticed an important or significant change of wind, so borrowing a pen notified the family by reporting: wind now NW again
The whole message reads:
I expect to be sailing about 3 o'clock this afternoon as the wind has just come SW so hope we shall not be long before we are home
Well no more this time best love to all from your loving husband Jack xxxxxxxxxxxx
wind now NW again
As in all cases of sailing, wind was the most important reason for the quality and speed of the voyage……..
Six days later, 19th December, they had completed what must have been a quick passage to the Humber where they anchored off Grimsby awaiting a tug to tow her up river.
As it was the First World War the Admiralty would not allow a Captain to sail through The Boom (anti submarine boom?) and up river alone. The next day she had a tug alongside waiting for her to get under way. No anchor light was allowed under the Admiralty Wartime blackout regulations. In the dark, with all aboard likely to be in a happy frame of mind after a hard sail, buoyed up by the thought of Christmas at home, the minesweeper "Valmont" steamed in and collided with the Charlotte Kilner. Whilst still at anchor and with the aid no doubt of the stone cargo she was carrying the ship sank in an instant. At any time a disaster such as this must strike like a bolt of lightening, but being nearly Christmas it must have seemed much worse, and if that was not enough, it was a dreadful stroke of irony that it should be an Admiralty vessel involved. Luckily, with a bit of quick thinking, the 4-man crew were saved by the tug.
By all accounts the "Charlotte Kilner" had been kept in pristine condition, after all it was not just the family business but also their leisure, kept more like a yacht than an ordinary working boat. What a calamity it must have been for the whole family. The Charlotte Kilner lost.
Following this accident the Admiralty reviewed lighting arrangements for craft the result being that the displaying of riding lights for vessels at anchor was reinstated. The final blow came however on 28th December when the Registry of Shipping deemed the Charlotte Kilner a "total loss" (and gone forever!).
It had probably been a subdued Christmas, whilst thanking their God for salvation and making the best of it for the children's sake, it was likely a decision was made to continue and so in the New Year the hunt for another vessel was on.
Having contacts in the business he knew of two ketches that could be available, the "Daisy" owned privately by a Captain Cawthorn and "Princess" owned by Rowbothams, who at the time had its ships chartered by Appointment to the War Office (which, ominously or not, may have meant The Admiralty), both available for a cost of around £1000. The "Daisy" was coasting somewhere and unable to contact Captain Cawthorn it was not known when she would become available, but on the other hand "Princess", after her return from Guernsey, would be available immediately.
By the end of January 1917, not able to wait for the salvage insurance on the Kilner John W decided to make an offer of £1150 for "Princess", which of course was "subject to inspection". Rowbothams who confirmed the vessel was now on passage from Guernsey accepted this offer (Princess was expected to commence loading for return 2nd January).
When "Princess" did not arrive in Hull for hand-over by the middle of February his letters began to show signs of agitation and stress, because in all honesty he probably had given assurances to his friends, colleagues or business associates that he would be taking ownership of his replacement vessel imminently and would be able to ship and deliver cargoes requested. Whether he was misguided or mislead, this has not or cannot be so far ascertained.
Information in this matter is still being sought in order to complete this part of the history.
Even though it should have been expected perhaps, some more unwelcome news came in the form of a letter from his solicitor informing him the Admiralty had "repudiated liability" in the matter of the sinking of the Charlotte Kilner vs. Valmont.
By the end of February the "Princess" was still below the horizon as it were, Alderney Gas Co. on the other hand sent him a letter of enquiry to which he gave this rather embarrassed reply:
Letter No. 12 in the carbon copy book
Tuesday
Feb 27th 1917
The Alderney Gas Co
Dear Sirs
Yours of the 24th to hand this morning and you can rely on me to push matters all I can at this end on arrival of Princess but she hasn't got here up to writing this letter. I can understand The Position you are in and I am in another mans hands at present until he gets here, then it will be different I don't think I should have been all this time but hope soon to be able to wire you Kindest Regards
Yours Faithfully JW Raddings
PS The Freight ought to be a little more The way things are The ins (insurance?) is so High but will see about that later
On 28th February Rowbothams informed him "Princess" had passed Yarmouth and clearly trying to keep his composure replied.
Letter No. 13 in the carbon copy book. Thursday
Mar 1st 1917
Rowbothams & Sons
Dear Sirs
I am duly in receipt of your letter of yesterday & Pleased to hear that The Princess Passed Yarmouth And up to Time of writing she has not arrived but we have had very little wind since yesterday no doubt she will be here tomorrow.
It will not be necessary To Put Vessel in Dry dock as there is a good hard here available.
Yours Faithfully JW Raddings
It will be Monday or Tuesday before she has water To The Berth she is for To discharge
John's reference to "hard":
I should think he means a sand bank, or place to run the vessel aground so he could inspect the hull without incurring dry dock charges.
In the end "Princess" did not arrive on the berth to discharge until 10th March, where he discovered to his dismay the Captain aboard had made a prior cargo charter to someone in Guernsey and was bound by agreement to complete. With this knowledge on 11th March he wrote Alderney Gas informing them of yet another unfortunate delay.
By the 13th March the sale of "Princess" was complete, but problems were still bogging him down. These can best be explained in another letter he wrote Alderney Gas 14th March, only three days after his previous letter of the 11th, the mounting frustrations, disappointment, if not anger very prominent, in fact this is the longest of all his carbon copy letters and reads as follows:
Letter No./pages 26 & 27 Wednesday
14th March 1917 Gas Co
Dear Sirs
I wired you on Monday that I could not get Princess without fulfilling Guernsey charter I told The owner that he ought to have Told me when I First arranged about her seven weeks ago but he did not know she was Fixed until she got here. The Capt was by the share and did all (h)is own chartering and he had Fixed her for Back again on the 23rd of Dec last when he Finished discharging at Guernsey with his coals. They tried to get out of it but the merchant would not release The ship at all and me becoming owner had to fullfill charter. I am awfully sorry To disappoint you at The last but you see my Position I couldn't do other than I did without waiting until she went To Guernsey with these coals, and he might have been another four months in doing that, I have got loaded today and shall get away The end of The week it will Take me until then to get all squared up and when I get to Guernsey I will come over To see you & Messers Lowery will wire you if anything comes along suitable and I shall be at liberty next Time I get here I would Far sooner have come to Alderney than gone to Guernsey I don't know what you would think when you got my wire but I was helpless. I would not have cared so much if I had known at First, but if I had you would not have been able To get a ship as there has not been any here.
Yours Faithfully J W Raddings
N.B. The Captain "had Fixed her for Back again on the 23rd of Dec". At this time14th March 1917, it was nearly 3 months later!
If that was not enough, other problems arose after he wrote this letter:
Changing over insurance from Rowbothams insurers proved difficult and a minor collision between "Princess" and another vessel BHTN "Mary Annie" whilst under ownership of Rowbothams added to the complications and frustration.
A week later, confirmation of insurance finally arrived on 21st March enabling him to sail. Putting the embarrassment and loss of face behind him he set sail on Thursday 22nd March 1917 for Guernsey knowing that on arrival he would be able to find time to visit Alderney Gas Co. to express his sincere apologies for the unforeseen problems and trouble.
At the beginning of April whilst Elizabeth was awaiting notification of her husband's safe arrival in Guernsey she received the following devastating news:
CUSTOMS AND EXCISE.
MEMORANDOM
Goole 1st April 1917
From To
Receiver of Wreck Mr J W Raddings
Sir. "Princess"
A small boat has been picked up near the Cockle Light Ship, which apparently belongs to the above.
Application for its delivery should be made to the Receiver of Wreck at Yarmouth.
F. Mon……….(illegible).
Of course the Memorandum was written to the Owner, but with Jack (JW) aboard, Elizabeth obviously shocked with disbelief and confusion wrote to inform and confirm the news with their solicitors:
Letter No. 37 in the carbon copy book. Tuesday
April 3rd 1917 L C Sage Secretary Dear Sir
I received a letter from the "Receiver of Wreck" Custom House Great Yarmouth" yesterday the 2nd inst saying that a boat marked "Princess of Goole" had been picked up at sea near the Cockle Lightship on the 27th March and taken into Yarmouth. I am naturally very anxious as to the whereabouts of the "Princess" as I have heard nothing from my husband since he sailed, which was the 22nd March, I thought it best to advise you in these matters.
Yours truly Mrs E Raddings
Another letter/memo this time from H.M. CUSTOMS, YARMOUTH, 7th APRIL 1917, which may have been sent to solicitors L S Sage & Co that seems to be in response to letter No. 37 before being forwarded to Mrs E Raddings, 681 Holderness Road, Hull and reads:
Dear Madam
With reference to my letter of the 3rd inst: I have now ascertained that the boat from the "Princess" was found undamaged and full of water up to the gunwale. There was nothing whatever in her and the painter was not broken. There was no wreckage near and no sign of crew. The weather at the time was fine, but it had been a little hazy.
Yours faithfully,
AStewartBrown Receiver of Wreck
And if those immediate worries were not enough in Elizabeth's troubled mind, there was the ongoing case with the Charlotte Kilner vs. Valmont:
Letter No. 40 Tuesday
April 17th 1917 L C Sage & Co Dear Sir
Charlotte Kilner & Valmont
Have you heard anything further about this matter from the Admiralty.
Yours Faithfully E Raddings
Indeed sailing was very precarious in those days; the 'jolly boat' was the only thing found from the Princess, all aboard had perished. Whether lightening had struck a second time, in the form of a minesweeper or other vessel colliding with her in fog etc., or blown up by a mine, no trace was ever found. The weather does not seem to have been a factor; thanks to the Met Office archives, in 2001 I was able to ascertain the conditions. It was cold with light easterlies at first backing northerly force 5 by the 29th March 1917.
Without a doubt rescue would have been nearly impossible, no radio, no generator, only a ships compass, oil lamps, an almanac, navigation tables and charts along with the fundamental chartroom tools. Perhaps a pot-bellied stove for warmth, a small galley and a bucket in which to wash. For safety a hand bilge pump somewhere to save the vessel from flooding and of course, the last option, a 'jolly boat'.
Indeed Radio telephony had only just been invented at the end of the 19th century. The radio receiver was invented by Marconi between 1895~1901. The RNLI did come into being though on the east coast at Cromer & Great Yarmouth in 1857, but unlikely to have had radio equipment at the time, only relying on visual sightings or telegraph. Therefore, in most cases aboard ship it must have been a case of self-preservation, which John W did as he maintained his vessel to the best standard at Waddingham shipyard Winteringham where repairs were undertaken for the CKilner in 1907 and 1914. However, in addition to personal preferences this may have been a requirement under the Merchant Shipping Act 1876
The Merchant Shipping Act of 1876 certainly introduced the best safety to sailors at the time in the way of the Plimsoll Line.
It is my belief therefore, after inspecting Princess on the "hard" Jack was satisfied with the vessels seaworthiness
N.B. 21st March, the day John (JWR) set sail, is the Vernal Equinox, the Equinox being a biennial event of the biggest Spring Tides of the year.
Inserting Dr to Routh & Waddingham
Ship & Boat Builders Wintringham
from 1914 if req'd.
In April 1917 a familiar and obviously close friend of the family wrote to Elizabeth, a
Mr A. C Tourgis of Alderney who best sums up the whole picture of those times and the feelings for anyone who knew Jack Raddings (JWR) and his family:
"Les Chevaliers"
Alderney
April 25th 1917
Dear Mrs Raddings,
Your letter gave us a shock although we were in some measure prepared for it as the Master of the steamer that had put into Cherbourg stated that a boat belonging to "princess" of London had been picked up empty.
I have been thinking that perhaps Capt Raddings & crew may have been picked up by an outward bound ship & they did not bother with the boat which would be quite natural as we have seen a similar thing happen in the case of the Norwegian steamer's boat off Alderney.
In that I find it hard to reconcile with the above view is that you have no news.
I have had no end of enquiries about Capt Raddings, he had quite a host of friends here & was universally liked as quite apart from the qualities which enabled him to make friends he was above all a man & a thorough British seaman & as one of our Pilots put it no better man on the coast. I am still hoping that some news of him may turn up & the account of the crew of the Barge "Puernia" having been made prisoner by the German Destroyer which raided the Kent Coast last Friday revived the hope the Barge having been abandoned.
We are in God's hands & living through terrible times, not knowing what will happen next.
Should the worst have happened to Capt Raddings & his crew you & your children will always have consolation knowing that your husband died for his Country.
I feel the loss of a personal friend.
This is a trying time for you & you have all our sympathy. Trusting this finds you as well as circumstances permit & still hoping to hear some news. I remain
Yours sincerely A. C Tourgis
Even after all these troubles my father John (1910~2000) still had a keen interest in going to sea. His mother however, more cautiously, steered him into the Humber Pilot Service thinking her son would be nearer home and may have had a naive notion that Pilotage, which meant climbing up or down rope ladders then jumping off onto a tender whatever the weather conditions as well as guiding ships, was likely to be a less dangerous occupation. After completing his apprenticeship (6yrs) at the age of 21/22 he still had to serve time as a midshipman in a sailing vessel and so in 1931 served in one of the very last merchant sailing vessels available, a topsa'l schooner named "Jane Banks" of Fowey. At this time, contrary to the Rule of the Road Shipping Regulations, "Sail was (definitely) giving way to Steam"!
Could it be that in 1931 circumstances had improved aboard Sailing Vessels?
A vivid memory of his was of a ferocious night with all hands on deck (probably only 4 men) desperately shortening sail to save them and the ship from destruction. This task completed, the desperation was then focused upon saving themselves. No radio, no generator, no life preservation equipment, only the ships hand bilge pump and a 'jolly boat'.
"All hands to the pumps" is a well-known phrase and until the storm abated it was the only thing left for them to do as the ship floundered head to wind in the huge seas. God was on their side that night as the ship eventually made for a safe haven and port. The reward for saving themselves from oblivion though would be nothing other than the usual, discharging the vessel by hand, with pickaxe, shovel and brush! (Certainly not the popping of champagne bottles on arrival as is the case for the celebrating yachtsmen today!)
Therefore the answer to the fore mentioned question would most certainly be: No.
We all accept sailing has a certain mystique about it and still remains the perception for the romantic no matter which era, but like most hard manual-work of those times, it was also tough if not rather grim.
Who knows, could there be a 5th Generation somewhere up aloft clinging to the heavenly rigging? If there is he will surely be in good company ………..
With my father now the junior lad and tea boy, it could be he is leading them all astray, enjoying a peg or two and splicing the main brace, as they swing on the anchor recounting their wild stories!!
It is ironic however that in 1917 there were two parties in Guernsey and Alderney both desperate for a delivery of coal and could not wait, but in the end there was no alternative.
The End

Yours DWR

P.S.

When I was born my father John (1910~2000) wanted to call me Benjamin.

Benjamin William Raddings.

As a compromise with my Mother (Florence Mavis), David William Raddings was agreed (1946~ to ….91years later, the new kid Grandfather of the family on the bloc!)

Now that I have come to understand all the family history I realise why my Father wished me to be named Benjamin William Raddings……..

http://www.knottingley.org/history/genealogy/familytrees/raddings.htm