Johannah Lindley nee Constantine 1903 -1997
Notes for
JOHANNA CONSTANTINE:
Click on image to enlarge. Hover over photo's for a description.

Born 5, Melton Villas, Mexborough, South Yorkshire.
Birth Registered 10-JUN-1903 By Elizabeth Constantine (nee Walton) her mother.
Her father was George Constantine (Coal miner) and lived at 97, Doncaster
Road, Denaby, South Yorkshire. The following are addresses she lived at up to the age of 14 they were:-
60 Maltby Street, Denaby.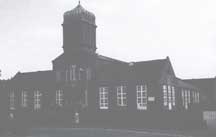 3 Union Street, Hemsworth, Nr. Barnsley.
16 Warmsworth Street, Denaby.
The frequent changes of address were due to having strikes at Denaby Colliery
and having to vacate the property each time, owing to the fact the properties
Denaby All Saints Church
were owned by the Colliery Company.
Johannah went to Rossington Street School at Denaby and Hemsworth School, she finally left Rossington Street School at the age of 13.

Johanna worked for one year cleaning houses as and when required in Denaby until she had full time employment as a Parlour maid at Crawshaw Hall, Rawtonstall, Lancashire, her employer being Lord Crawshaw of Loughborough Hall, Loughborough.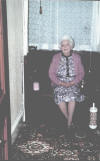 She was in his employ for 3 years and 6 months. Johannah then returned to Denaby and found employment at Fullerton Hospital ,Denaby as a Cook, she stayed there until her marriage in 1924 when she was aged 21.
Johanna married George William Lindley who lived at 16 Northcliffe Road Conisborough, he was a Moulder by trade at the Queens Foundry at Swinton near Mexborough, the company was also known as Hattersley Brothers.

George William was also 21 being born on the 29 of December 1902 at 16 Northcliffe Road Conisborough. They stayed a little time at 16 Northcliffe Road and then moved to Ivanhoe Road, which was nearby. Living at the same address was George Williams sister Evelyn who was by now married to Walter Hutchinson and they had a daughter Constance, known as Connie. Also living in Ivanhoe Road at the same time was George Williams Aunt Polly ( Mary) she was an Ackroyd and sister to George Williams Mother Ellen, Aunt Polly was married to George Addy whose family came from Ferrybridge but latter moved to Mexborough and worked in the glass industry. George Addy latter worked at the Kilner glass works at Conisborough and was landlord of the Eagle and child Public house in Conisborough.
George and Johanna ( known as Hannah) then had a daughter Cynthia who was born at 16 Warmsworth Street Denaby Main, the home of Hannah's mother Elizabeth Constantine (nee Walton) whose husband was George Constantine worked at the local Colliery Denaby Main. George and Hannah then moved into 2 Hameline Road Conisborough a new housing development at Conisborough and remained there for 70 years as the only tennent.
Denaby All Saints Church where Johannah was married on the 4th of August 1924